ZEN1752F(Generic Expansion I / O)

ZEN1752F(Generic Expansion I / O)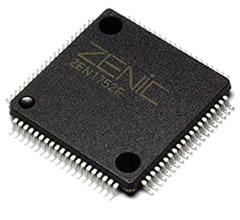 ZEN1752F is a GPIO LSI that combines functions commonly used in video equipment and FA equipment into one chip.
The installed I / O is a general purpose input / output port, I2C bus master, SPI port, PWM output, infrared remote control input, UART, pulse counter. Since each block can be individually shifted to the standby mode, a low power consumption system can be realized.
In order to flexibly deal with various operation rate demands of each peripheral, each block can select the operation clock from two kinds of clock sources (however, general purpose input / output and UART block are exclusively for SCLK).
* I2C is a trademark of Philips Corporation.
Main features
CPU I / F
8 bit parallel interface
General purpose I / O port
Max 40 books (36 of which are shared with other functions)
Port
Port A: 4 dedicated ports (I / O / interrupt setting is possible for each one)
Port B: 12 dual-purpose ports (I / O setting can be set for each one)
Port C: 12 dual-purpose ports (I / O setting is possible for each one)
Port D: 12 dual-purpose ports (I / O setting can be set for each one)
Io = ± 4 mA
Can be set to standby mode (operation clock is stopped) for each block
I

2

C master
Max 6 ch (used by switching) [SPI and terminal sharing]
SPI port (4 wire serial)
Max 3 ch (used by switching)[Sharing terminals with I

2

C]
UART
Max 4 ch (independent)
PWM
Max 3 ch (independent)
精度
8bit
赤外線リモコン入力
Max1ch
Accuracy
16bit
Pulse counter
Max 12 ch (single phase counter mode)
Max 4 ch (two-phase counter mode / pulse width counter mode)
Count accuracy
Pulse width counter mode 12 bit
Single phase counter mode 8 bit
2 phase counter mode 24 bit
Pulse width counter mode
Count pulse width of High / Low
Single phase counter mode
AB phase / up / down signal
System clock
Max50MHz
Peripheral clock
Max25MHz(However, the frequency of the peripheral clock ≦ the frequency of the system clock / 2)
Power-supply voltage
3.3 V single (input terminal 5 V tolerant)
Package
LQFP 80 pin (12 × 12 mm, 0.5 mm pitch)
Data download *Japanese document