ZEN2061F(Up to 6 channels total of 96 bit up / down counter)

ZEN2061F(Up to 6 channels total of 96 bit up / down counter)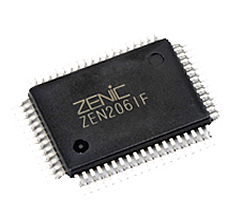 Counter train is a programmable universal counter IC, which can count up to 6 channels.
The counter length is variable in units of 8 bit, and a total of 96 bit are built in. The counter train consists of 12 consecutive 8-bit counters. Each counter can be organized like a passenger car and can be configured as a maximum of six counters (trains).
Also, six phase discrimination circuits that generate up / down signals to send to the counter can be built in, and the deviation counter can be configured by combining the two.
Main features
Resolution
96bit (8bit x 12)
Phase discrimination circuit
6
Input format
· Up-down 6 pairs
· Code + pulse 6 pairs
· Incremental 6 pairs
· 3 deviation inputs

Counter response speed
5Mcps max (clock fo = 10 MHz / hour)
Other features
Fixed by 4 times
CPU interface selectable (80 series / 68 series)
TTL level input / output
package
· QFP 64 pin (ZEN 2061 F)
· DIP 40 pin (ZEN 2061 P)

DIP package has ended production.


RoHS compliant
Data download *Japanese document