ZEN2014F(Low price · Ultra high speed 24 bit · Up / down counter)

ZEN2014F(Low price · Ultra high speed 24 bit · Up / down counter)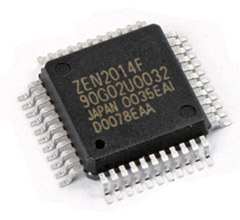 ZEN2014F is a 24 bit ultra high speed programmable universal counter IC.
It can count 2 phase pulse signals and up / down pulse signals output from rotary encoders, linear scale etc.
Compared to the conventional ZEN2011P, the counter response speed has been increased to 4 times that of 33 MHzmax, and the QFP 44 pin package was adopted to further reduce the size. It is also compatible with ZEN2011P on software. It is high speed and miniaturized by the latest manufacturing process, and the price has been reduced to about 1/2 of that of conventional products.
Main features
24-bit binary up / down counter
Counter response speed
33Mcps max(Clock fo = 33 MHz / hour)
Count pulse input frequency
· In 2-phase pulse signal input mode: DC ~ 8.25 MHz (fo x within 1/4)
· Up / down signal input mode: DC ~ 16.5 MHz (fo x within 1/2)
Multiplication switch
1/2/4 times (only when 2 phase pulse signal is input)
Other features
24 bit, 2 sets of comparison register value - counter value match detection function
QFP 44 pin package
Compatible with ZEN2011P function
ZEN2011P software compatible
Low price
RoHS compliant
Data download *Japanese document