ZEN7251G(PCI bus, DMA / target access compatible interface)

ZEN7251G(PCI bus, DMA / target access compatible interface)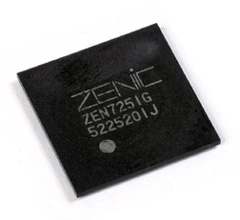 ZEN7251G is an interface IC for 5 VPCI bus with built-in target access & DMA function. This IC supports both simple target access and applications that require high-speed transfer.
Since the local bus is a simple strobe system, interface design is very easy.
Efficient data transfer is realized by incorporating 32 stages of large-capacity FIFO in the data path for processing target access to the memory area and DMA. Moreover, ultra small LFBGA 224 is adopted as a package. Short card size board space can be effectively used.
Main features
Main features
Target access / DMA compatible PCI bus interface IC
32bit / 33MHz / 5VPCI compatible
Compact PCI compatible (not hot-swappable)
Local data bus 32 bit fixed
Local memory space 64 Mbytes, I / O space 64 KByt
Built-in DMA 1 ch for 4-stage relay transfer
32 stages large capacity FIFO equipped in memory access and DMA data path
Access timing can be adjusted by mode register and WAIT #
Local side interrupt signal (IRQ #) can be output as INTA #
Built-in PCI clock timer built in
3.3 V single power supply
BGA 224 pin (ball pitch 0.8 mm)
RoHS compliant
Data download *Japanese document