ZEN2024F(Ultra high-speed 24-bit 2-channel up-down counter)

ZEN2024F(Ultra high-speed 24-bit 2-channel up-down counter)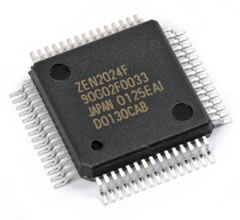 ZEN2024F is a 24-bit 2ch ultra-high speed programmable universal counter IC.
It can count 2 phase pulse signals and up / down pulse signals output from rotary encoders, linear scale etc etc.
Compared with the conventional ZEN2011P, the counter response speed has been increased to 4 times that of 33 MHzmax, and 2 channels are incorporated in the QFP 60-pin package to improve mounting efficiency. Also, it is compatible with ZEN2011P on software.
Main features
24 bit 2 ch · Binary up / down counter
Counter response speed
33Mcps max (clock fo = 33 MHz / hour)
Count pulse input frequency
· In 2-phase pulse signal input mode: DC ~ 8.25 MHz (fo x within 1/4)
· In up / down signal input mode: DC ~ 16.5 MHz (fo x within 1/2)
Multiplication switch
1/2/4 times (only when 2 phase pulse signal is input)
Other features
24 bit, 2 sets of comparison register value - counter value match detection function
QFP 60 pin package
Compatible with ZEN2011P function
ZEN2011P software compatible
Low price
RoHS compliant
Data download *Japanese document