FV-3000HS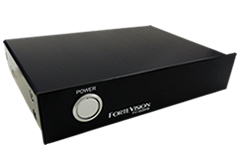 FV-3000HS sharpens low contrast moving images with our original technology "ForteVision". It is a digital image signal clarifying unit that improves the visibility of objects.
Supports HD-SDI signal (1080 / 60i). Easy installation with compact design.

Main features
Main features
Supports HD-SDI signal (1080 / 60i).
Automatic adaptation to various external light conditions such as low illumination, backlight, fog and mist.
Built-in noise filter for reducing noise in low-brightness area.
Original image output function when power is off.
Only video signal supported.
Remote control function by USB interface (dedicated software).
Easy installation with compact design.
Connection example
*It can be installed at the backward of the camera equipment or at the ahead of the monitor equipment.

Main Specifications
項目
FV-3000HS
I / O video standard
HD-SDI
I / O signal format
FullHD(1080/60i)
I / O signal terminal
BNC connector
Pass-through function
When the power is off, input is pass-through output
Audio signal format
Unsupported (audio signals can not be transmitted)
Remote control
USB (using special software)
Power-supply voltage
DC 12 V (AC adapter included)
Power consumption
5W
Environmental condition
Temperature: 0 ° C to 50 ° C Humidity: 20% to 80% (non condensing)
Mass
1.3 kg (excluding AC adapter)
External dimensions
205 mm (W) x 143 mm (D) x 44 mm (H) (not including protrusions)
*Product specifications are subject to change without notice.
Data download *Japanese document