Efforts of ZENIC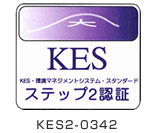 KES is a standard of "environmental management system".
"Environmental management system" is a mechanism for managing and reducing the burden on the environment in the management of companies and others.
The environmental management system has the international standard ISO 14001,
KES was born as a standard that is easy to understand and easy to work with.

Click here for KES (Environmental Management System · Standard) website

Environment Declaration
Basic principle
Recognizing that conservation of the global environment is one of the most important issues common to mankind, ZENIC Inc. will strive to reduce the environmental impact and protect the environment by raising the entire organization.
Policy
ZENIC Inc. considers the image clarifying unit · Original IC · Custom IC · Substrate design consignment · To reduce the environmental impact of all activities related to FA system development and design consignment, products and services, environmental management based on the following policy We aim to harmonize with the global environment by promoting activities.
1. We will always be aware of the environmental impacts related to our activities, products and services, promote environmental pollution prevention and environmental protection, and strive to continually improve our environmental management activities. Environmental protection includes the utilization of sustainable resources, mitigation of climate change and adaptation to climate change, and protection of biodiversity and ecosystems.

2. We will comply with environmental legal and other requirements related to our activities, products and services.

3. Among the environmental impacts related to our activities, products and services, we will address the following items as priority environmental management themes.
(1) Reduction in electricity consumption
(2) Reduction of office paper usage
(3) Proper management of gasoline fuel consumption
(4) Promotion of green purchasing of office supplies
(5) Underground passage cleaning

4. In order to allow each employee to actively implement environmental load reduction activities, we notify all employees of this environmental declaration and make them available to the general public.

5. We will actively participate in regional environmental improvement activities.

In order to achieve the above policy, we set environmental improvement targets and review them on a regular basis to promote environmental management system activities.
Date of enactment June 1, 2007
Revision date June 1, 2017
ZENIC Inc.
President and CEO Keisuke Hisano